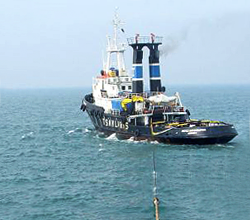 Services
The TSAVLIRIS name has been prominent in shipping for more than half a century, establishing the Group as one of the world's leading marine salvors.
With a bedrock of experience garnered from successfully handling over 1,500 different kinds of casualties, the Group is active in all sectors of marine salvage.
As a total salvor, TSAVLIRIS is geared to provide any and all services relating to marine salvage and towage - ranging from emergency response on the high seas to industrial, type projects for removing wrecks, as well as refloating vessels, recovering cargo and handling deep sea operations. Whatever the challenge, TSAVLIRIS' approach combines a traditional salvor's gallantry and practical ingenuity with contemporary engineering and project planning skills.
Founded on safe procedures, scrupulous attention to detail and efficiency, flexible cost-effective solutions, TSAVLIRIS is able to provide an extensive scope of services including:
Marine Salvage and Ocean Rescue Worldwide
Deep-Sea Towage Worldwide: ship delivery & marine transportation, specialized towage operations, towage approval inspection & preparation.
Wreck removal and Demolition Operations
Fire Fighting & Control
Pollution Control: pollution combat, containment & control, oil spill recovery & clean- up operations, prevention of oil pollution, bunker removal and emergency discharge of oil and/or chemicals from disabled tankers.
Cargo Recovery Operations: cargo lightening, storage and transshipment, STS (ship-to-ship) cargo transfer operation, hazardous cargoes/material handling, removal and disposal.
Ship Recovery Operations: refloating operations, pumping-out & dewatering services, machinery preservation & corrosion control, casualty repairs and engineering.
Anchor Handling & Offshore Support
Sub-sea Works: underwater survey and inspection (including video documentation services), damage repairs
Contingency Planning & Emergency Response: rapid deployments of fly away Salvage Teams
Management & Consultancy: effective crisis management, analysis of alternative salvage methods, project management & feasibility studies, pre/post sales consultancy, legal & claims advice
"the best services we can offer,
as do our seas and shores"