TSAVLIRIS SALVAGE GROUP -
Profile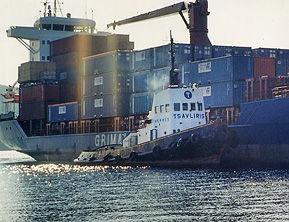 TSAVLIRIS is one of the most active emergency response contractor for maritime casualties worldwide, as well as the most frequent user of LOF contracts. The Group's international activities embrace every service relating to marine salvage and towage, extending to complex wreck removals and partnering today's shipowner in fulfilling its obligation to protect the marine environment from pollution.
INVESTMENT POLICY
In order to maintain and improve its service to the shipping industry TSAVLIRIS is continually investing in resources, including the training of field and office personnel. At the same time, the Group has invested in its own fleet of dedicated salvage vessels and a wide array of auxiliary equipment maintained at its storage depots.
GLOBAL ACTIVITIES
The Group has established the practice of "Salvage Masters on station" in places where access from Piraeus is difficult, such as Argentina, South Africa, and Singapore etc. A similar arrangement has been practiced with Salvage Masters or experts in Europe, whenever the permanent staff is not readily available. These arrangements ensure a quick response to casualties, which is vital.
In addition to maintaining its own fleet, TSAVLIRIS is also the most frequent subcontractor of equipment, personnel, AH (Anchor Handling) ships and salvage tugs in the international market. Over the years, close relationships with tug owners and brokers around the world have been developed, and a tug or any other requirement can be attained virtually anywhere at short notice invariably on the basis "our word is our bond".
The scope of the Group's operations is international, including the Black Sea, Red Sea, Arabian Gulf, Gulf of Aden, Indian Ocean, North and South Atlantic, Caribbean Sea, South China Sea, Java Sea, Sea of Japan, Pacific Ocean, Sea of Okhotsk, Baltic Sea, English Channel, the Gulf of Honduras and Yellow Sea etc. Salvage operations have been also performed in ports, rivers, straits and waterways around the world.
SALVAGE CONTRACTS UNDER LOF AGREEMENT
Over the years, TSAVLIRIS has been one of the world's most active emergency response contractor, consistently performing more Lloyd's Open Form salvage services than any other company. The Group has undertaken more than 3,000 maritime casualties in the last 50 years, with an average of 25 undertaken each year. In 2000 the Group signed 50 LOFs, the highest number ever recorded by Lloyd's in a single year. TSAVLIRIS is the purest salvage-oriented enterprise, gaining more than 95% of revenues from Lloyd's Open Form operations .The "MSC CARLA", a 1997 TSAVLIRIS mid Atlantic landmark case, is considered to be one of the largest LOF award of all time.
TSAVLIRIS celebrated 100 years from the birth of its founding father, Alexander G. Tsavliris; 75 years from the commencement of the first Tsavliris shipping company and 50 years from the foundation of TSAVLIRIS SALVAGE in 1964.